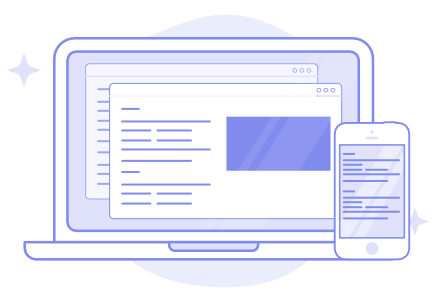 We will help with your online presence!
There is a whole sector in today's business world that only specializes in online marketing. This includes a company's presentation and marketing and its products or services in the World Wide Web. This marketing also includes a platform – a website. The website is often a company's first step to introduce itself and its products, goods and services. Statistics show that in 2017 alone, more than 3.5 billion people used the internet worldwide. Many of those used it to get an overview of different offers, companies and products. They often take a close look at how the company presents itself. The website is, therefore, the most important flagship and should be handled as such.
Unfortunately, many internet users are not able to utilize a variety of products, due to language barriers. People tend to indulge in things they are familiar with and this also applies online. They feel safer and more comfortable to purchase a product if they see the product descriptions and the purchasing details in their own native language. The layout and presentation is also very important: a well-written text that does not sound like a translation at all will lead to a feeling of familiarity. They may be more likely to actually click 'BUY'.
With in a language, the translation of your website will be fast, easy and affordable. We are able to translate your website in different CMS systems and we are also familiar with various file formats, as well as programming. Please do not hesitate to contact us, if you have any questions regarding this matter.
Expand your online presence and let us help you with developing your websites in different languages to win over new potential customers!