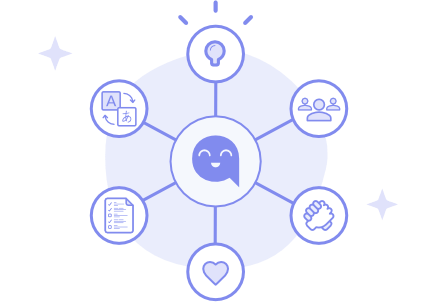 Collaboration is the key to success!
in a language – a platform for companies, individuals and other translators.

You are looking for a translator for your project?
Search no more - you have found the right place! Our in a language team will help you with your texts, graphical designs, website and data.
How does it work?
Contact us! Easy and without any obligations. You can directly talk to us about all details, information and requirements. Please check out our chat feature for that.
Please also take a look at our console. You can register for free and create an account here. With this account, you are able to manage all your projects, get in touch with us, upload your documents and download the completed translations. We will spare you the annoying back and forth. Here, you receive everything from one source.
You are a translator and want to be a part of our in a language team?
Then you are at the right place!
You can create an account as a translator directly in our console. You will receive projects and orders directly in your account – this means, you decide which orders you would like to take, when and how much you work. Thanks to our console, you are not bound to a workplace. You will receive the documents and your work online, you can get in touch with our customers with our chat feature and upload the completed work.
For more information, please do not hesitate to contact us.